Workplace Reopening Solutions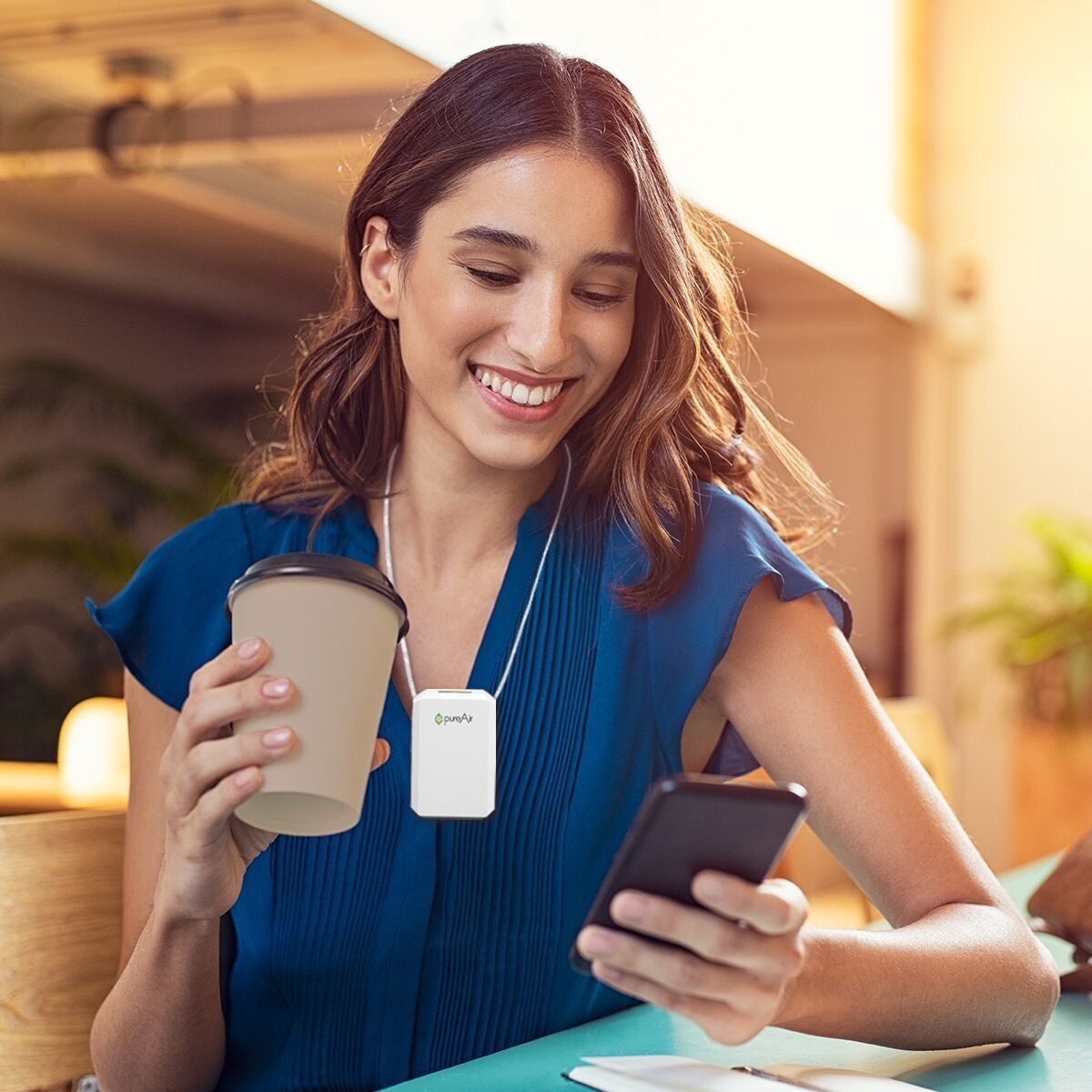 NEW pureAir SOLO from Greentech Environmental
00022
Product Details
pureAir SOLO from Greentech Environmental is a sleek, wearable air purifier that creates a personal 3 ft. clean-air zone by repelling particles from your breathing space. Visit friends and family without the negative effects of other's pet dander, perfumes, or colognes.
When used with a conventional face filtering mask, continuous emission of unipolar air ions has been shown to considerably enhance the filtering efficiency against fine and ultra-fine particles.* The effect is driven by the repelling forces that cared ions create between the mask and the aerosol particles, creating an "electrostatic shield" against incoming particles.

Purification lasts all day, with a rechargeable battery providing over 24 hours of use per charge. It includes a USB charging cable and breakaway neck cord. Use pureAir SOLO to enhance other healthy habits. pureAir SOLO is not a medical device and is not a replacement for other practices recommended by the CDC.
Sleek, fashion-forward design
2.95" H x 1.94" W x 0.67" D and 2.22 oz.

Easy to use

Place around your neck using the breakaway lanyard cord and turn it on.
Rechargeable
Up to 28 hours of purification bliss before needing to recharge its lithium battery.
Powerful purification
Solid platinum permanent emitter and gold-plated stainless steel collectors produce ion density of 50 million per cubic cm, at an ion wind of 90 feet per minute.
Applications
• Travel • Running Errands • Schools
• Waiting Rooms • Offices • Social Gatherings
• Gardening • Allergy Relief • And More!
*Enhancement effects of 20 fold to over 3000 fold were demonstrated depending on mask type. Lee et al. (2005). Filtering Efficiency of 95 and R95-Type Facepiece Respirators, Dust-Mist Facepiece Respirators, and Surgical Masks Operating in Unipolarly Ionized Indoor Air Environments. Aerosol and Air Quality. Vol. 5, No. 1. pp. 25-38
Save this product for later
Information overload?
It's easy to get confused when products and services are constantly evolving.
A one-to-one call at a time that suits you can make things clearer.
Schedule your 15 minute zoom meeting here: